Thank you for joining us at Cooking for Life with Friends!
OMYGOSH!  I'm so excited that you're here!!!
And honored that you've chosen to spend your time with Chez Amy.
Now, let's get cookin'! 
You will receive a welcome email within 24 hours.
And just like a recipe, please follow these 3 steps to get ready!
1. To prepare please join the Chez Amy Community in  the private Facebook group here.
2. Be sure to check out the Starter Kit and Tips page to see where you're at for cooking supplies.  If there is something you don't have besides the basics, you can probably wait.  The best place to ask questions about this is in the group.
3. Help me learn about YOU to provide better service and more of the information you are looking for by answering a brief questionnaire. Tell me more about YOU, WHY you're here, and what you are looking forward to experiencing.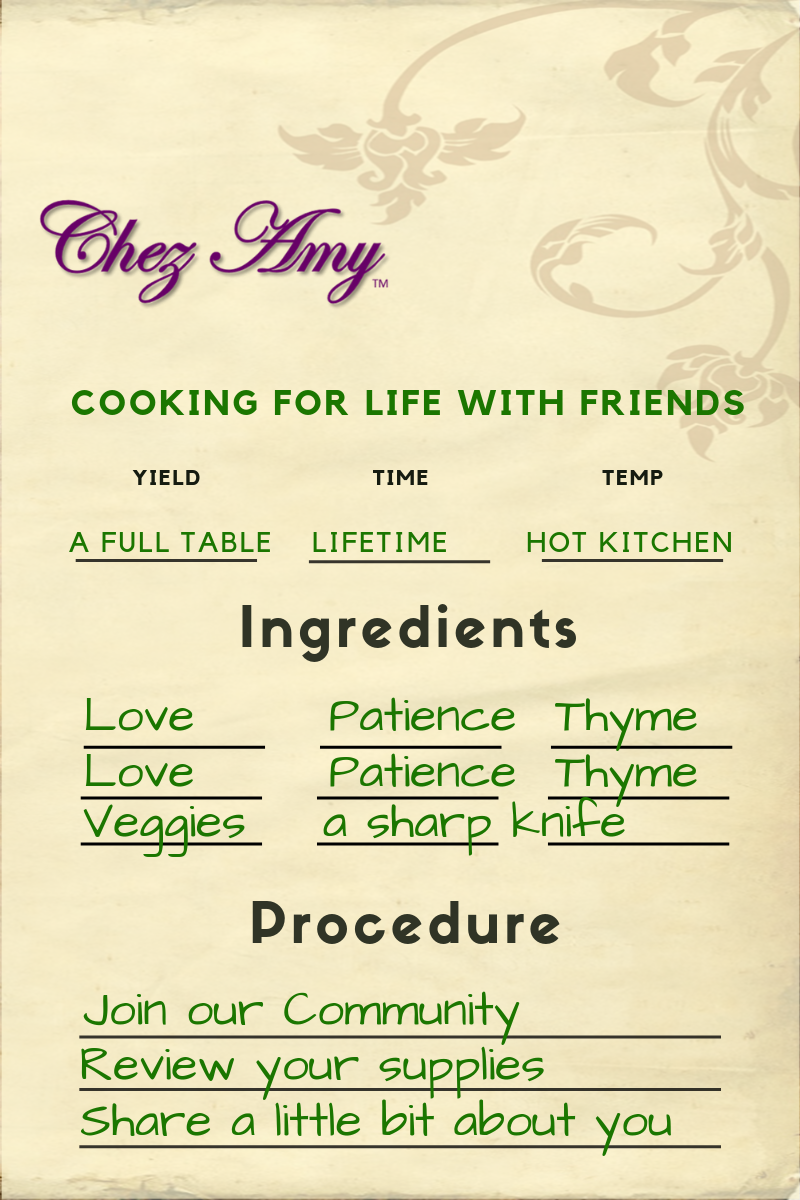 A reminder of how we roll:
Our program is designed to help you to 
learn HOW to cook, manage your pantry and shop with ease, receive generations of cooking tips, and belong to an awesome community learning and sharing with you!
Here's how it works:
Wednesdays: You'll receive an email with the next week's menu and recipes, shopping list, reheating instructions, and possible leftover ideas.  Everything will be posted in the private Facebook group as well.
Thursdays: Check your pantry and make note of what you need. To help with your budgeting needs, you may want to spend time checking your weekly grocery story sale flyers to confirm your shopping list.
Fridays: Relax knowing you've got next week's meals!
Saturdays: Video Lessons will be posted in the Chez Amy Community private Facebook Group
Anytime: Share your food pics! Brag, Be Bodacious! Ask Questions!
Need more info? I've described everything in more detail below.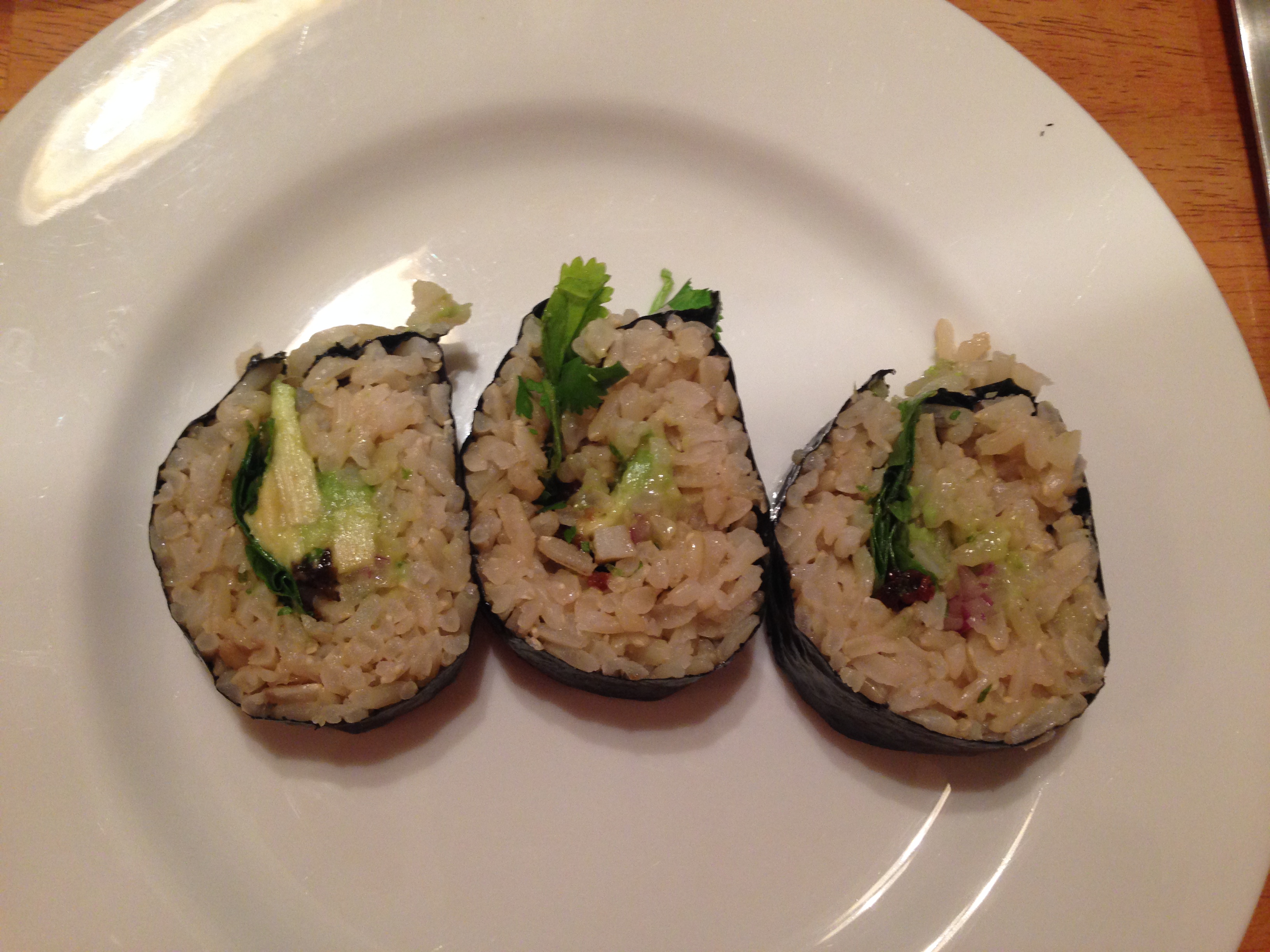 May I give Cooking for Life with Friends as a gift?
ABSOLUTELY!
Your credit card will be billed monthly until you manually cancel the subscription.
Be sure to enter the recipient's name and email for the subscription.  A special email will be sent welcoming your recipient to the Chez Amy Community.
My goal is that you learn basic cooking skills AND eat flavorful food! Each week, I'll send recipes for 3 meals that include a protein, veggie, 'starch', and simple dessert. Each meal typically has 4 servings, or more.
Recipes will most often include a meat, poultry, or fish protein; however I can offer plant-based protein options.
The recipes I select are designed to take 30-45 minutes to prep and cook for a busy day, or have a short prep with longer cooking time for days with more flexibility or staying home.  
I do not personally use crock pots or instapots, but if you do let me know and I will try to let you know how to adapt the cooking time.
Shopping lists are organized like a grocery store. The amount of ingredients to buy are NOT based on the recipe measurements but by how we have to purchase them. I mean, I've never seen 2 tablespoons of chopped parsley at the grocery store, just sayin'. And if you already have this item in your pantry, no need to get more! 
Certain staples come in packaging for multiple servings, like rice.  I will time recipes so that you can use it again yet keep it fresh.
The recipes are just a plan, and, just like plans, everything works on paper. The prerecorded video lessons are step-by-step instructions starting with how to set up your kitchen for the meal, timing, generations of cooking tips, and LOTS OF FUN! 
I will also provide reheating instructions, and how you can repurpose leftovers for the recipes with generous portions. I personally need a variety in my daily meals.  2-3 times of eating the SAME THING is about all I can take, unless it's cheese covered, toasted chili dogs. Then, I can eat them from breakfast, lunch, and dinner. Don't ask. I can't explain! HA!
YOU'RE NOT ALONE! We have an awesome group, Chez Amy Community, on Facebook. 
This is where we get to share our successes and learn from our burnt pans, salty salads, and tooooo-much-garlic sauces.
And ASK QUESTIONS please!  I've learned over the years, that if I have a question, chances are at least one other person does too.  I will be hanging out in the group to answer all the questions, throw in an occasional tip, ask questions to help you better, and share any new fun information I happen to stumble across.
If you prefer to ask your question privately, send me a private message. I will gladly answer. Please note, that I will also ask you for permission to anonymously share your question and my answer.
The cooking lessons are designed for people who don't know how to cook, are overwhelmed by recipes, frustrated with grocery shopping, trying to eat the best they can on a budget; for other cooking enthusiasts, people wanting to try out cooking; or maybe someone who was recently diagnosed with a medical condition and needs to make changes to their diet and needs help doing it.
Each meal design starts with the protein: beef, chicken or turkey, pork, fish or seafood. Next is the veggie, and then starch because I'm old school, and finally dessert. All items are designed to complement each other, just like when you go to a restaurant. I am sharing recipes that I learned myself or created in my kitchen.
I love veggies! I typically include 2-4 in every meal.  A veggie may even be the 'starch'.
Desserts are simple and only to round-out a meal.
It's GREAT if you experiment!  Share your ideas with the group!  
If you have a medical condition or dietary restriction for a main ingredient, feel free to ask for an alternative option.  I will share this with the group, anonymously of course.
I decided on 3 meals per week because it's a big change to cook regularly if you have not done so in the past.  Let's keep it comfortable and fun!  Hopefully, you will develop your 'go-to' recipes that you can do in a jiffy!  And hopefully, you will discover your pantry staples for future impromptu meal prep.
I do encourage the consumption of as many organic ingredients as possible.  However, I know that everyone has a budget. Buy what makes the most sense for you.
It is super important to me that everyone has a positive experience cooking at home or sharing in the group.  I will be your #1 supporter, and I will moderate group comments to stay positive.
The meals are not restricted to specific diet plans like paleo, keto, whole 30, atkins, etc.  My philosophy has always been to minimize "filler" so I can eat more delicious, flavorful food.  I consider "filler" anything that fills my belly but does not satisfy me.  So, in general, I minimize breads, rice, pasta, etc.
I am not a medical professional, licensed dietitian or nutritionist. If you have specific dietary needs, please consult your doctor prior to cooking. 
I do not offer strict vegan or vegetarian meal designs.  However, feel free to substitute anything on the shopping list with ingredients you prefer.  That being said, they may not behave the same in heat or cold as the ingredients originally listed.
The cooking lessons are not designed for advanced home cooks.  The recipes will not rival culinary school.
You do not need fancy or unusual kitchen supplies.  Basic pots, pans, cutting board, knife, and a few baking dishes or pans.  A grater will be helpful, but not necessary.
In our Chez Amy Community, we will not tolerate snarky, aggressive, or rude comments.  If you have a strong opposing opinion about something, please pause before sharing your thoughts.